Q1: Why is this newsletter called "Conscious Incompetence"?
Yeah we know it's weird! But read on and you, my dear reader, will understand what we're all about here at CI!
Back at IIM-A, in our very first year, we had a course on Individual Dynamics. If you've gone through B-School, and are shocked that you're hearing about it for the first time, it's OK. The poor subject is the step-sibling of all the fancy Finance and Marketing courses.
But now that we are a couple years older and more than a couple lakhs poorer, gradually the importance of what was being preached in the ID classes while we were busy snoring is dawning upon us.
Most interviews ask you the question - "So how do you grow as a person?" Which, at first glance, seems stupid! Isn't our resume proof enough that we have "developed deep domain expertise in Finance/Marketing/Strategy" or that we have "developed a first-principles approach to understanding the dynamics of XYZ industry"?
Well, no one is doubting what you have achieved. But the question, to us, is a lot more profound: Do we believe in a principle that acts as guiding light on our (un-ending) journey for wisdom? And it is this thought that moved us, here at Conscious Incompetence, to re-visit our ID curriculum and this concept in particular.
Wikipedia: Four stages of Competence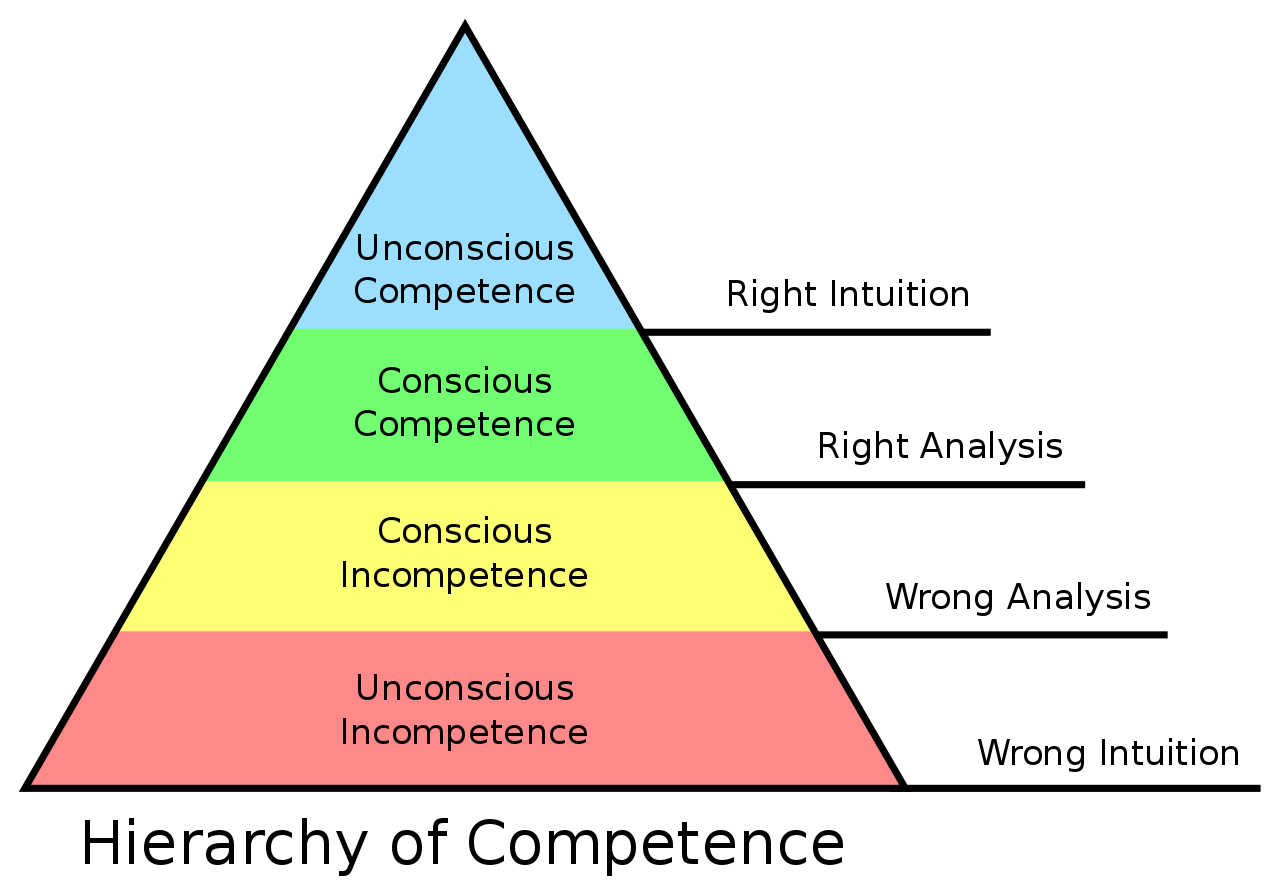 Our belief here is that we are at Level 2 of the pyramid. We're not blind and arrogant enough to believe that we know everything. But through our interactions with people a LOT smarter than us, we have been humbled enough number of times to know that there are so many things we don't know. And more importantly, we want to know!
---
Parting Thoughts
Conscious Incompetence: Though the individual does not understand or know how to do something, they recognize the deficit, as well as the value of a new skill in addressing the deficit. The making of mistakes can be integral to the learning process at this stage.
If that definition resonates with you, then consider this newsletter, dear readers, your companion as we strive to move up the Competence pyramid! Time and again, we will post our learnings from sources a lot more learned than us. The objective isn't to educate you, dear readers, for we're not that smart - but to, over a period of time, develop a repository of summaries that you can quickly browse through while you decide, on a lazy Sunday morning, what next are you going to treat your mind with! And obviously we'll tag the link to the original article!
Happy reading!